KENWOOD HOUSE, HAMPSTEAD HEATH
17 – 18TH SEPTEMBER 2022
FEATURING PETER SINGER, ESTHER FREUD AND DONALD HOFFMAN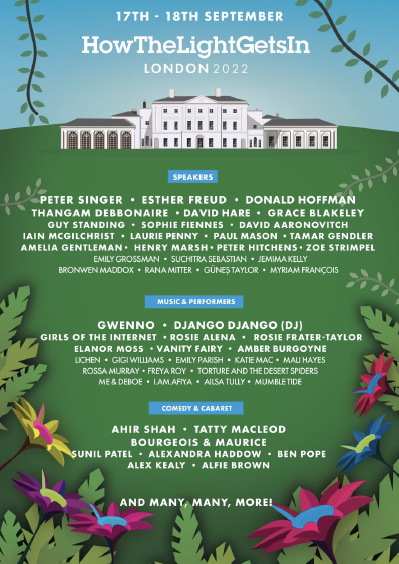 HowTheLightGetsIn returns to London for a weekend of debate, music and comedy at the cutting-edge
The world's largest philosophy and music festival HowTheLightGetsIn has announced its full programme for London 2022, taking place this 17-18th September. Marking the festival's fourth venture in London, Peter Singer, Esther Freud, Donald Hoffman, Thangam Debbonaire, Grace Blakeley, Guy Standing and David Hare are just some of the stellar names set to grace the HowTheLightGetsIn stages across the weekend.
Boasting over 200 speakers and performers, 130 events and 10 stages, the festival attracts internationally respected thinkers from all fields and a spectacular medley of musicians, performers and artists. The festival will also stream certain events online for festivalgoers who can't make it in person, with all events gradually released on the festival's online platform IAI.TV.
Following the theme Error and Renaissance, the world-leading speakers attending HowTheLightGetsIn will set their sights on one goal: to identify the fundamental errors that we have made in our theories, the organisation of society and in world affairs – all while looking to new forms of thought and action to rebuild afresh.
From Nobel Laureates to Pulitzer Prize winners, HowTheLightGetsIn is home to thinkers changing the world. Speakers headlining the festival include the godfather of altruism Peter Singer, critically acclaimed author Esther Freud, groundbreaking reality theorist Donald Hoffman, revolutionary economist Guy Standing, BAFTA-winning playwright David Hare, fearless economist Grace Blakeley, best-selling radical brain researcher Iain McGilchrist and revolutionary feminist Laurie Penny, with a full speaker list included in the festival programme.
Debate is the beating heart of HowTheLightGetsIn, where international philosophers at the top of their fields lock horns with influential politicians, scientists and cultural figures to discuss the big issues of today. Singular for its combination of critical thinking with award-winning music and comedy performances, HowTheLightGetsIn Hay 2022 offers a weekend of intellectual discovery set against the backdrop of electrifying performances and late-night parties.
As philosopher and founder of the festival Hilary Lawson says, "We look not only to philosophers, but to scientists, novelists, artist and politicians. The big questions are present in every field, and new philosophical ideas are at least as likely to appear in literature, history or science as they are in philosophy."
HowTheLightGetsIn is alive with ideas in every field of endeavour. With discussions designed to challenge the status quo and speakers meticulously selected for their pioneering achievements and singular approach to their fields, expect topics such as 'The Key to Consciousness', 'The Fantasies of the West', 'After Happily Ever After', 'The Theory to End all Theories', and 'A World by any other Name'.
Beyond the spirited debates festival-goers can expect an abundance of other experiences to enrichen the day. Whether it's illuminating solo talks, educational Academy courses or intimate dinner events in the Inner Circle, the festival is an exclusive opportunity to meet the speakers in a casual setting and discuss the most pressing issues facing society with like-minded people.
Expertly-chosen music and irresistible comedy are an essential part of HowTheLightGetsIn. This year's line-up includes 2022 Mercury nominee Gwenno, 2012 Mercury Nominee Django Django, Girls of the Internet, Rosie Frater-Taylor, Eleanor Moss and Rosie Alena, alongside a host of comedians including Ahir Shah, Tatty Macleod, Alex Kealy and Alexandra Haddow.
As Hilary Lawson notes, "if you are listening to a debate in a festival tent there is something about occasional background sounds of music and entertainment drifting in from other venues that helps to level the conversation. Music is also about being fully present and experiencing being alive. Thinking is only one part of the philosophical story. Being is the other. And we are frequently closer to that on the dance floor than in the lecture hall."
Tickets for the full festival are available now – use the code PHILNEWS22 for a 20% discount on tier 3 tickets. Students and under 25s are eligible for a 30% discount.
For details please visit https://howthelightgetsin.org/festivals/london
For more information, images and interview requests, including interviews with philosopher and founder of HowTheLightGetsIn, Hilary Lawson, please contact Charlotte Churcher on charlotte.churcher@tvf.co.uk