Faith as a Cognitive Sickness from Philosophy News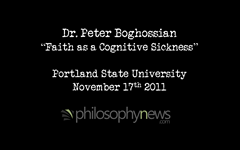 Dr. Peter Boghossian pulls no punches claiming that faith is a cognitive sickness and that those who attempt to get to the truth using faith are delusional. In this trailer for a talk he gave at Portland State University, Dr. Boghossian passionately argues that faith, regardless of the conclusions one draws from it, is a faulty process and cannot reliably get one to the truth. The talk was originally scheduled for a smaller room but then had to be moved due to the overwhelming response. The new space was filled to standing room only and dozens were turned away.
Agree with him or not, Boghossian makes claims you can sink your teeth into. There is no doubt where he stands on this issue giving both supporters and detractors a solid starting point for discussion.